At the Apple Trust we understand how difficult it can be to leave your child at nursery for the first time, that is why we do everything we can to ease this transition for both you and your child.
Prior to starting you will come and look around the setting and see the room your child will be part of, and meet the room staff as well as the early years teacher and graduate lead. We offer 1 hour taster sessions for your child to experience their new environment and what it offers.
During your child's first taster session you as the parent/carer will meet with a member of the management and leadership team to be inducted. This is a friendly chat so we can get to know you, and your family and how special your child is, after all you are your child's first and best educator.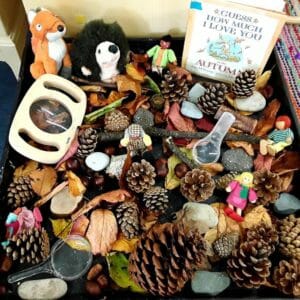 This is a fantastic nursery, my son LOVES it here. Theres so much to keep him entertained, stimulated, peak his interest and curiosity. The staff are amazing, always going above and beyond yo care for and educate. I simply couldn't recommend this nursery enough!

Daniel Black
During this chat we will get to know your child's daily routine and we will explain how we work and sign you up to our parent app – this is a fun interactive way to keep up to date with how your child is doing throughout the day in nursery and their development, you can also send us photos and videos of how they are getting on at home.
First day – on your child's first day you will receive photos throughout the day to reassure and give you an insight into what fun your child is having.
When you come to pick your child up a member of the team will tell you how they have been doing and any key information.
Your child will be assigned a key person who will support you and your child's learning and development throughout their time with us, and at home through our parent app.
6 weeks – after six weeks (or earlier if needed) we will ask you to join us for a catch up about how you feel your child and yourself are doing settling in. This is an opportunity for us to evaluate how we can support you further and for you to ask any questions.